St. Paul, MN (December 14, 2020) – F&L Tool Corp., an industry leader in Precision Machining, specializes in machining complex castings and parts made from raw material and forgings. The company's move toward higher dollar, premium work is a testament to the experience of the engineers, the 5-axis machines employed and the software tools they use.
Located in Corona, California, F&L Tool Corp.'s ability to meet extremely difficult customer requirements has enabled F&L to stay competitive for over 40 years.
F&L Tool Corp. often accepts complex machining projects many machine shops would be hesitant to undertake.
This move toward higher dollar, premium work is a testament to the experience of the engineers at F&L, the 5-axis machines employed and the software tools they use.
Although the world of 5-axis was foreign to the engineers at F&L, the commitment to superior quality carried over.  With that in mind, they required a machine that would allow them to complete the complex work they were aiming for, while holding tolerances for years to come.
This led them to the Matsuura MX-520 5-Axis Vertical Machining Center.
With high-precision, performance, speed, accuracy and reliability, the MX-520 provides a simple, effortless and cost-effective transition for 3-Axis users making the transition to full 5-Axis operation.
The MX-520 has a compact footprint and outstanding ergonomic design, allowing rapid set-up and processing of complex parts.
The MX-520 guarantees high rigidity, as well as, a generous machining envelope with excellent operability. The MX-520 also offers an assortment of configurations, which are ideal for all applications, all industries and all materials.
The headstock and trunnion on the MX-520 have been configured to minimize collision while maximizing tool access and reach. The MX-520 is offered with two table sizes: 11.81 in. and 19.68 in. (option).  Loading capacity is 440 lb.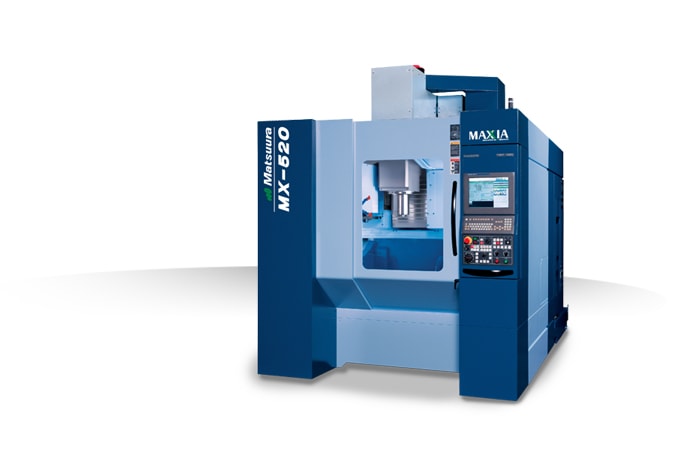 Although Production Engineer Ryan Lacroix was happy with their choice of machine, they ran into issues when coming across a part that was almost too big for the machine to handle.
The location of the spindle on the MX-520 allowed F&L to mill on one side of the component, flip around the C-axis and get a larger work envelope.
The issue was that Mastercam did not support this, and at the time, neither did TruePath. When Ryan Lacroix reached out about this, CAMplete saw his issues and acted. After minimal back and forth, the problem was corrected, and F&L was able to complete the project.
This was a defining moment for Ryan, noting the importance of support in this industry while praising the support staff at CAMplete.
The biggest factor for Ryan Lacroix is the fact that CAMplete TruePath has allowed them to become more competitive, taking on work that they would otherwise be unable to. As F&L Tool continues to take on increasingly challenging projects, they have recognized the need to add additional machines.
All Matsuura 5-axis machine come standard with CAMplete TruePath.
CAMplete, a perfected Post and Simulation Tool comes standard on all Matsuura 5-axis machines. CAMplete TruePath bridges the gap between your CAM Systems and your Matsuura Machine. TruePath provides flexibility to combine CAM Systems in a single project and transfer an entire project from one supported machine to another.
CAMplete works closely with Matsuura, using machine models built directly from their original design data. These highly detailed and fully integrated machine models provide confidence in the simulation.
"TruePath's customizable post-processor allows you to output your NC programs the way you need, with no on-machine editing required. 5-axis simulation, visualization and verification tools give you the confidence of knowing how your machine will behave before you run a single line of G-code," said a CAMplete Spokesperson.
"Implementing TruePath in your shop gives you a proven post processor with models built in conjunction with Matsuura, so you can get the most out of your machine from day one," the CAMplete Spokesperson added.
By choosing a machine that is already supported by CAMplete, F&L Tool has a software solution ready to run from day one and the flexibility to easily move new or existing programs between machines and provide flexibility to move between machines easily.
Learn more about CAMplete at https://camplete.com/
Machinery USA, Inc., located in St. Paul, MN is the U.S. subsidiary of Matsuura Machinery Corporation in Japan. Since 1935, Matsuura has been the forerunner in designing innovative technology and manufacturing solutions to a variety of industries around the globe. Matsuura Machinery USA, Inc. delivers unmatched excellence in 5-axis, vertical, horizontal, linear motor, multi-tasking CNC machine tools and machines with a powder bed metal AM platform with machining capability. Matsuura Machinery USA, Inc. provides the service, applications and technical field support that have always been the Matsuura standard for business. For more information on Matsuura products, contact: [email protected] or visit: matsuurausa.com.
#MatsuuraUSA #Matsuura #5axis #CAMplete #TruePath #F&LTool #MX520 #precision #complex #machining
MatsuuraUSA Matsuura 5axis CAMplete TruePath F&LTool MX-520 precision complex machining