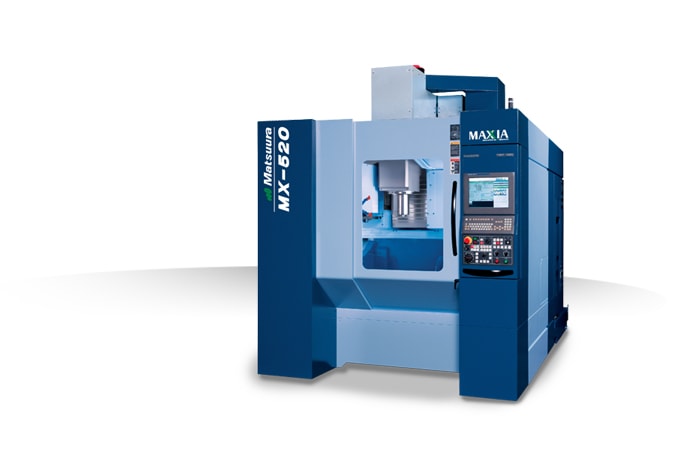 SAN FRANCISCO, Calif. (May 1, 2020) Located in San Francisco, Plethora revolutionizes the way a traditional factory works by automating conventional manufacturing processes to produce high-quality machined parts with rapid turnaround times. Plethora's first of its kind software offers immediate design feedback and pricing which simplifies and shortens the ordering process and can eliminate weeks out of the engineering schedule.
Plethora's automated factory now offers CNC milling and turning in 23 materials, including aluminum and copper alloys, plastics, steels and stainless steels. Their machining services support 3-axis and 5-axis-indexed machining, accommodating approach vectors for complex geometry from any angle.
Plethora expanded their CNC machining capabilities to offer increased services in new materials and capabilities including the purchase of a Matsuura MX-520 5-Axis Vertical Machining Center.
"The hand built, enormously accurate Matsuura MX-520 is an exceptional choice for such a groundbreaking company as Plethora. We are honored to be a part of their revolutionary business model where they inspire customers who need fast, reliable, precision parts production," said David Hudson, Vice President of Sales & Marketing.
With high-precision, performance, speed, accuracy and reliability, the MX-520 provides flexibility and versatility allowing full 5-axis functionality without multiple setups.
The Matsuura MX-520 maintains high rigidity, provides a generous machining envelope and large working area while possessing a compact design and narrow footprint. The MX-520 also offers an assortment of configurations allowing rapid set-up and processing of complex parts.
CAMplete TruePath software – an integrated suite of G-code editing, optimization, analysis, and verification tools is standard on every Matsuura MX-520.  
The MX-520 5-Axis Vertical Machining is one of the most sought-after machining centers having all the expected qualities and features of a Matsuura machine, but with a very competitive price tag.
Plethora's local Matsuura Machinery USA Distributor is Selway Machine Tool. Selway Machine Tool is the exclusive distributor of Matsuura products on the West Coast, offering a wide variety of manufacturing solutions including: machine tools, accessories, automation, service and application support. 
One of Plethora's first projects on their newly installed Matsuura MX-520 was for BioDapt Performance Prosthetics and Adaptive Equipment in St. Cloud, MN.  BioDapt designs, manufactures and distributes high performance lower limb prosthetic components used for action sports and other similar activities. Their goal is to manufacture the highest quality and highly versatile components that allow amputees to participate in sports and activities. This equipment can be, and is used by many elite adaptive athletes at the highest level of competition as well as the average person who just wants to get out and be active doing the sports and activities they enjoy.
Plethora machined joints for prosthetic legs for amputee athletes on the Matsuura MX-520.

MORE ABOUT PLETHORA:
Plethora's software is the first of its kind to provide instant feedback and connect users directly to a factory. The CAD add-in works directly within Autodesk Inventor, SolidWorks and NX and as a web-app platform giving instant pricing and manufacturing feedback to anyone with a CAD model. Plethora's custom automation software automatically converts 3D files and specs into the code needed to machine the parts inside the company's state of the art factory. Plethora controls every step of the process to guarantee that the customer's parts are machined to their exact specifications and shipped on-time.
"We start with the design software: our CAD Add-in analyzes your model for manufacturability and price. This avoids the usual back-and-forth of quoting and feedback – letting you focus on making parts, not managing your suppliers," said Plethora's Product Line Manager, Natalie Klapper.
After the order is placed, the customer's design files enter the Plethora Production System where their automated software converts them into the instructions the factory uses to produce and inspect the part. The company is committed to a "full stack" approach, considering it is the only way to truly transform the production process into an on-demand system of creation.
Transparency and quality customer service are important to Plethora and their processes keep customers up-to-date on the progress of their parts.
Plethora founders Jeremy Herrman, 30, and Nick Pinkston, 33, met in 2008 when they bonded of a shared love of tinkering and a mutual fascination with the 3D printing industry. The two heard the same complaint repeatedly: it was challenging for hardware entrepreneurs to find manufacturers willing to take on their projects.
In 2014, the two launched Plethora – a fully vertically integrated factory in the Dogpatch neighborhood of San Francisco, which they filled with advanced 3D printers, robots and traditional milling machines.
According to Hermann, he believes the industry has not changed much in 100 years.
"I feel like that visceral sense of holding what you build in your hand is a very strong emotion," Hermann explained.
Plethora's vision has brought in funding from Google Ventures, Founders Fund and others that hope to change the way manufacturing is done.
Learn more about Plethora at: plethora.com.
"At Matsuura, we understand quality customer service. The late Toshio Matsuura founded Matsuura Machinery in 1935 and his philosophy was simple: 'Our entire company is a showroom.' We maintain his promise to our customers today. Our continued success is based on our exceptionally skilled workforce, offering traditional craftsmanship combined with state-of-the-art engineering principles and our total commitment to excellence in product design, innovation and manufacturing. From Fukui City, Japan to St. Paul, MN, to the world, we honor Mr. Matsuura's commitment to innovation, technical excellence and superb customer service," Hudson added.
MORE ABOUT BIODAPT:
The Moto Knee and Versa Foot was created by Mike Schultz, a professional snowmobile racer that lost his leg above the knee in 2008, due to an injury while racing.
"I wanted to get back to doing the activities I loved (mainly motocross and snowmobile racing), but I soon found out there was nothing that would really allow me to ride the way I did before my amputation. With my knowledge and experience of fabrication, the experience of tuning suspension on my race equipment and my unwillingness to compromise I set out to create what I needed. After nearly two years of development I have come up with a knee unit that is versatile enough to handle many different action sports and has helped me win multiple ESPN X Games medals in the adaptive motocross and snow cross events. In my many years of racing as a professional I've learned it takes a few key components to be successful; support from the people around you, a whole lot of determination and the right tools for the job," said Mike Schultz, owner of BioDapt.
After Mike competed at his first adaptive sporting event he soon realized that many other amputees could benefit from the equipment he was working on. A year and half later in 2010, he started his new company called BioDapt.
Learn more about BioDapt at: biodaptinc.com
MORE ABOUT CAMPlete Solutions:
CAMplete Solutions Inc. is a technology driven company located in Ontario's Waterloo Region – the heart of Canada's Technology Triangle. With close to 20 years of experience in 5-Axis machining and machine simulation, CAMplete is committed to developing products that allow manufacturers to meet the needs of today and the challenges of tomorrow.
CAMplete came to life when they saw people struggling with their CAM systems and knew that they could help. They saw the communication breakdown between their CAD/CAM and their machine, and envisioned a software product specifically designed to bridge that gap. CAMPlete offers four products to solve customers problems, including, CAMplete Truepath, CAMplete Truepath Lite, CAMplete Turnmill, and Intelligent Protection system(IPS). CAMplete software is designed specifically for Customer's machines, as opposed to a generic solution.
Learn more about CAMPlete and Matsuura at: https://camplete.com/machine-partners/matsuura-cnc-post-processing-simulation-optimization/

MORE ABOUT SELWAY MACHINE TOOL:
Selway Machine Tool was founded in 1963 by Roy Selway. The company began representing Matsuura products in 1978.  Many of the Matsuura 5-axis machining centers sold by Selway Machine Tool are producing parts for the Aerospace, Medical and Semi-conductor industries. The company continues to expand its operations, functioning in the same performance driven environments as its customers, focusing on providing value added products and services.
Selway Machine Tool sold the first Matsuura Horizontal with Multi-pallet System in the U.S., and has installed thousands of Matsuura Machining Centers on the West Coast.
Learn more about Selway Machine Tool at: https://www.selwaytool.com/
For more information on Matsuura products, contact: [email protected] or visit: www.matsuurausa.com.
Thank you to: Katie Hoban, Plethora's Content Writer; Natalie Klapper, Product Line Manager; and Michael von Sothen, Sr. Prototype Machinist for their contributions.