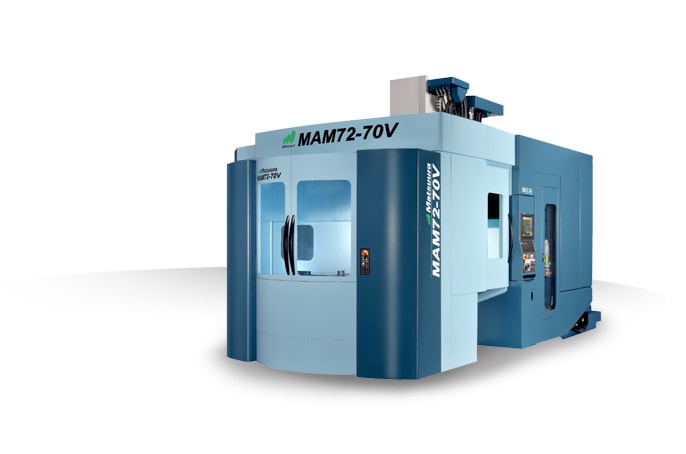 St. Paul, MN (October 16, 2018) — Matsuura Machinery USA, an innovator in the development of high-speed machining and the manufacture of automated, unmanned high accuracy CNC machine tools, announces the worldwide debut of the MAM72-70V, a high speed, large capacity 5-axis vertical machining center.
Introduced in 1991, the Matsuura MAM72 series presented the tower pallet system and remains unrivaled in the marketplace.
The MAM72 Series achieves process integration, complex 5-axis machining and versatile functionality in all machining environments. Variable-part, variable-volume production and reliable extended unmanned operation are a standard feature of the MAM72 Series.
"The MAM72-70V is designed to handle a greater workpiece size than Matsuura's existing models, offers faster response times to the market and delivers an even higher productivity to meet customers' business requirements for faster cycle times and cost down performance," said David Hudson, Matsuura Machinery USA Vice President of Sales and Marketing.
The MAM72-70V features a maximum workpiece of D700mm x H500mm with a load capacity of 500kgs per pallet: an 11% increase in diameter/height; 43% increase in weight; and 38% increase in envelope volume as compared to the MAM72-63V.
The MAM72-70V includes a newly developed 4th / 5th axis table equipped with a proven roller gear drive for the 4th axis and direct drive motor for the 5th axis. These enhancements achieve a rapid traverse rate of 50 min-1 and 100 min-1 respectively, enabling high speed, high accuracy and durability in extended performance over the lifetime of the machine.
By improving the MAM72 structure, improved ergonomic operator access and ease of operation for setup and maintenance are assured. The distance from the machine front (oil pan edge) to the pallet center is now only 620mm.
"Unmatched in performance, and the globally trusted "go to" platform for a variety of precision led industries, the MAM72 Series enhances cost-savings and provides better positioning, while delivering pallet and productivity solutions to keep your work center efficiently producing components around the clock," Hudson added.
The standard MAM72-70V is available as a twin pallet with tool storage capacity that may be extended to 530 tools (matrix type magazine), and optional pallet storage capacity can store 18 pallets in a tower pallet system.
The MAM72-70V is IoT ready, delivering measurable remote and real time monitoring of the machine status, condition and performance. IoT, the internet of things, is a system of interrelated computing devices, mechanical and digital machines, objects, animals or people that are provided with unique identifiers (UIDs) and the ability to transfer data over a network without requiring human-to-human or human-to-computer interaction.
Matsuura will present the MAM72-70V at JIMTOF2018, the 29th Japan International Machine Tool Fair in November at Tokyo Big Sight.
Matsuura Machinery USA, Inc., located in St. Paul, MN is the U.S. subsidiary of Matsuura Machinery Corporation in Japan. Since 1935, Matsuura has delivered unmatched excellence in high speed and high precision CNC machine tools. From full 5-axis, vertical, horizontal, linear motor or multi-tasking CNC machine tools, Matsuura has been the forerunner in designing innovative technology and manufacturing solutions to a variety of industries around the globe. Matsuura Machinery USA, Inc. provides the service, applications, and technical field support that have always been the Matsuura standard for business.
For more information on the Matsuura MAM72-70 Vertical Machining Center, please contact your local Matsuura USA Distributor or visit:  https://www.matsuurausa.com/model/mam72-70v/